This month we are highlighting the talents within Latex Design, as we lube up, strap in and slip into something sensuous we hope you enjoy our round up of the wonderful world of rubber.
With rubber fashion design being one of the fastest growing market sectors it is one of the most innovative and exciting area's to work in.
Today I feature one of rubber fashion's upcoming starts, Amy Lou Williams, who owns Sacred Latex. Her designs take inspiration from the nouveau rockabilly burlesque aesthetic: cutesy, kitsch, sexy and with a heavy nod to the styles of 1950's lingerie with a modern reinterpretation. Her muse is the hard headed super hot super vixen "I'm a huge fan of the artist Vince Ray, the ladies he draws are incredible. When I'm designing I always think to myself 'Would you see a Vince Ray girl wearing this?' If the answer is yes then I am a happy lady. "
Her new Collection 'Bondage Betties' will soon be available to buy in her Etsy shop. The 'Bondage Betties' Collection has very obvious reference to one of the female icons of the 1950's bondage pin-up scene Betty Page but upon probing a little deeper Amy-Lou says of her inspiration "I became curious a few months ago as to when the first latex garment came about, turns out a company called Playtex started producing latex girdles and knickers in 1940. Girls were reluctant to buy Playtex after discovering that wandering hands could tear the latex very easily, which isn't so easy to explain to your mother when she asks how it tore. So this collection was a little homage to them. I wanted to incorporate 1940's lingerie along with a very subtle bondage aspect."
Amy-Lou's foray into the world of latex fashion began as a final project whilst she was at College. The medical inspired project leant itself naturally to latex as a material and she never looked back and her natural inclination towards Burlesque has created a quirky playful rendering of the genre.
"I'd love to do an entire Burlesque set and costume made out of Latex. Latex isn't always the most elegant of items to dress or undress yourself in, so it would be challenge to think of ways to make it a little more glamorous! "
But it's not just the divine lingerie inspired latex goodies that are impressive, there's also super cute accessories available in her Etsy shop. I particularly like these sock suspenders and the D-ring bow design bondage Betty Gloves.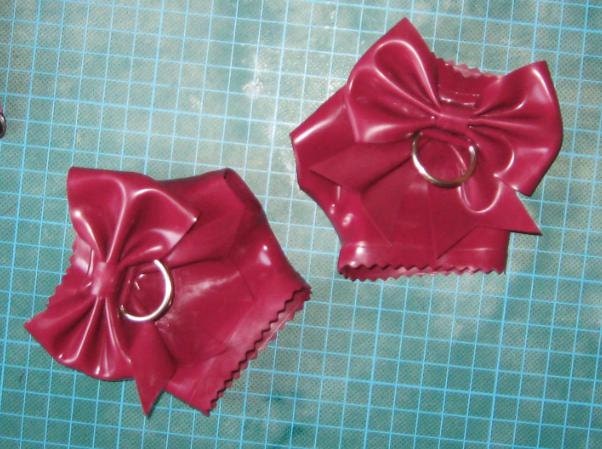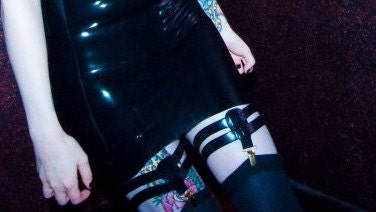 As well as the fabulous designs available from Sacred Latex Amy-Lou can also be commissioned to make a bespoke item. Clients can email her at SacredLatex@Yahoo.com or via Etsy, "I often get very shy clients and sometimes it takes a few messages to bring them out of their shell, but I love changing what was just an image in someone's head into a reality."
And although Amy-Lou didn't share any of her top secret plans for the future of Sacred Latex I'm sure her work will go from strength to strength. I for one can't wait to see what she does next…
To check out Amy-Lou's work:
Website: www.SacredLatex.co.uk
E-mail: sacredlatex@yahoo.com
Shop: http://www.etsy.com/shop/SacredLatex
Photography: Sarah Olivier www.saraholivierphotography.com